Nurse practitioners are the perfect guides for pregnancy care because they love to teach and talk
---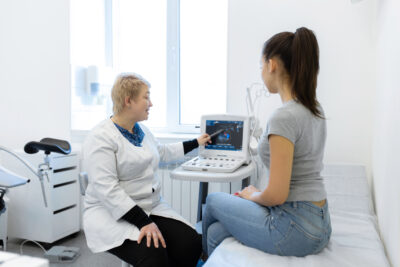 Nurse practitioners and specifically women's health nurse practitioners (WHNPs) are a wonderful resource for women and their healthcare.
The foundation of my practice is wellness and patient education. I love to talk with and educate patients, taking a holistic approach to wellness and illness, and meeting my patient's needs at whatever stage of life she is in.
This is especially impactful during pregnancy when a woman and her family often have many questions. Nurse practitioners (NPs) can perform and interpret test results, diagnose and treat medical problems, hold a patient's hand at the right time, and work with her OB-GYN team to deliver highly personalized care.
At our core, we are nurses and nurturers. Nurse practitioners specifically emphasize health and readiness from conception to fertility preservation counseling to complications during pregnancy and postpartum.
As a nurse practitioner, I am very proud of the care I provide to women and their families. It is my goal to empower patients by providing sound clinical advice and evidence-based information to help them make informed decisions about their health, birth planning and pregnancy care.
I work with patients every day, providing birth control and family planning services. I can place and remove intrauterine devices (IUDs) and Nexplanons. I provide pregnancy care, breastfeeding education and support, and postpartum care. I also have a strong interest in menopause management including prescribing hormone replacement therapy.
Additionally, I diagnose and manage common gynecologic problems like vaginitis and vulvar issues, abnormal uterine bleeding and irregular periods, pelvic pain, and some breast concerns. I perform in-office endometrial and vulvar biopsies.
As an NP, I do not perform surgery. While WHNPs can work in a practice or hospital setting, unlike midwives, we do not deliver babies.
The nurse practitioners in our practice differ in some ways from physicians and midwives. Some of these differences are highlighted below.
Looking for an expert in family planning or pregnancy care?
Request Appointment
What is a nurse practitioner?
A nurse practitioner is a registered nurse who has studied at the master's or doctoral level. For instance, I hold a doctorate of nursing practice (DNP) and am a board-certified women's health nurse practitioner (WHNP-BC), licensed as an advanced practice nurse by the Colorado Board of Nursing. As a licensed healthcare provider, I am subject to the scope of practice rules and regulations established by the Nurse Practice Act in my state.
In Colorado, nurse practitioners are independent healthcare providers and hold prescriptive authority. That means we can practice medicine independently and prescribe medications. We can also order and interpret lab and diagnostic tests. I am a member of the University of Colorado Medical Staff, on a par with physicians, nurse midwives and other advanced practice providers.
Role of a nurse practitioner in an OB-GYN setting
The role of the NP in an OB-GYN office is to evaluate and treat women, when appropriate, for:
Routine gynecologic care (Pap smears, annual examinations, etc).
Family planning needs.
Routine prenatal and postpartum healthcare, including limited obstetric ultrasounds.
Normal and high-risk prenatal care.
Fertility preservation work-up and referral.
Infertility work-up.
Many of the NPs in an OB-GYN department provide prenatal and postnatal care.
We spend a lot of time caring for, not just curing, our patients.
NPs are well positioned to help a woman and her family with birth planning. Embedded into the training of NPs is an approach to care that favors a patient-centered model that emphasizes wellness and disease prevention. a Patient-centered care focuses on an individual patient's specific health needs and desired health outcomes. Family input is not only welcome, but encouraged.
When to see a nurse practitioner vs. an OB-GYN
Many patients see only a nurse practitioner for their gynecologic care. What's great about our practice is that if a patient needs the expertise of one of our obstetricians or gynecologists, they are easily accessible. We work collaboratively with our physicians across departments and clinics.
During pregnancy, patients should expect to see an advanced practice nurse for at least some of their prenatal care. We also encourage patients to see a physician each trimester because their delivery will be attended by one of the physicians (as mentioned before, WHNPs do not deliver babies).
In complicated, more high-risk pregnancies, NPs will collaborate with physician colleagues including maternal fetal medicine specialists. Nurse practitioners are well equipped to bridge communication gaps, help distill complex issues allowing patients and families to better understand them, and provide continuity in a complicated healthcare system.
Patients who are having surgery will need to see a physician, but often seeing an NP will get them evaluated sooner and can be a good first step to getting the care they need. We often leave spaces in our schedule for unexpected problems and urgent care, making us more accessible than our surgical colleagues. This means a patient can get an appointment (especially as a new patient) quickly. If the patient needs surgery, we can get her teed up for it and can direct her to the most appropriate provider.
NPs provide more than just pregnancy care
WHNPs have the expertise to provide comprehensive primary healthcare to women, including care from the onset of menstruation through aging and menopause. If there are complicated health issues at stake, we collaborate with a patient's healthcare team to coordinate and provide care.
Advanced practice nurses care for obstetric and gynecologic patients throughout a patient's life span. Our care includes:
Evidence-based assessment, diagnosis, treatment and management in wellness promotion.
Contraception, including placing and removing IUDs and Nexplanon.
Sexually transmitted disease screening and treatment.
Menopause care.
Team coverage and collaboration with physicians to care for the most complex gynecology patients.
Biopsies, including endometrial and vulvar.
Ordering and interpreting diagnostics and lab tests.
WHNPs can perform colposcopies, which are examinations of the cervix, vagina and vulva using a colposcope, or treatment for abnormal Pap smears. In our clinic these procedures are performed in our Complex Colposcopy Clinic. Nurse practitioners, particularly women's health NPs, have the training and expertise to take care of women.
Electing to see a nurse practitioner during pregnancy care is a personal and empowering decision. We can help you make that decision.
Request an Appointment
About Genevieve Hofmann, DNP, WHNP-BC

As a nurse, she sees herself as a member of a patient's larger healthcare team. Her goal is to provide patients with sound clinical advice and evidence-based information. Ultimately, she aims to empower patients to actively participate in their care by listening to their needs and helping them make informed decisions.
Specialties:
Women's wellness and preventive health, including contraception and family planning, breastfeeding support, menopause, and prenatal and postnatal care.