Her doctors listened to her concerns and tailored a plan just for her
When Michelle and Justin started trying to get pregnant several years ago, they endured the heartbreak and grief of two miscarriages. To avoid another failed pregnancy, assess her health and identify any underlying issues, Michelle decided to schedule an appointment with a fertility clinic. During her visit, her blood was tested for genetic disorders.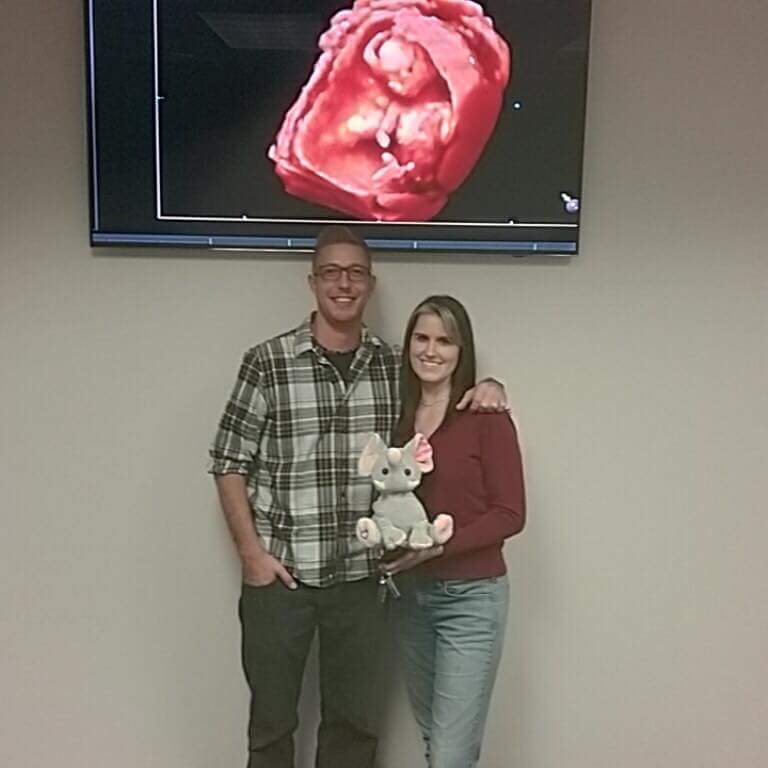 Michelle and her husband Justin posing in front of a 3-D ultrasound image of their son, Bodhi.
"I was found to have a fairly common disorder that affects a gene called MTHFR," she explains, referring to methylene tetrahydrofolate reductase. "It's a mutation that may prevent some women from carrying a baby to term. Unfortunately, as soon as I was given that diagnosis, we were no longer able to visit that clinic due to insurance changes."
That diagnosis combined with the lingering pain of losing two pregnancies put Michelle and Justin in a difficult spot. Michelle was now 41 years old, so the couple knew that even if they successfully conceived, they'd have to deal with the potential complications associated with a high risk pregnancy. Hope of having a child of their own was fading quickly.
"On the one hand it was really good to know that there was a reason for the pregnancy losses," Michelle recalls. "But even so, we didn't want to continue to try in vain. Honestly, at that point we were ready to consider giving up and looking into adopting."
Letting go of the stress of a high risk pregnancy
In July of 2016, not long after her visit to the fertility clinic, Michelle accepted a job offer at the University of Colorado Anschutz Medical Campus. With a new job and new insurance coverage, she opted to schedule an appointment with a CU OB-GYN doctor to discuss her options and determine what her next steps might be.
"The first doctor I saw was Dr. Jennifer Holmes," Michelle recalls. "She knew about the condition I'd been diagnosed with. She held my hand through the whole thing and she took the time to address all of my questions and concerns."
---
The most important part to me was the peace of mind – to be able to let go of some of the stress…Michelle
---
It wasn't long before Michelle and Justin had a plan, this time paired with the assurance that comes from an expert team of OB-GYNs and care providers. After follow-up appointments with the maternal and fetal medicine division for genetic testing, Michelle was given a special prenatal vitamin. This supplement helped her body absorb folate because MTHFR sometimes affects the normal absorption of this important nutrient.
"The most important part to me was the peace of mind – to be able to let go of some of the stress of having a high risk pregnancy and know that everything was on track," Michelle explains. "I'm a worrier by nature, and to have that taken away was so great. Plus, there's a children's hospital on campus if there are any issues. The services offered there are top-notch."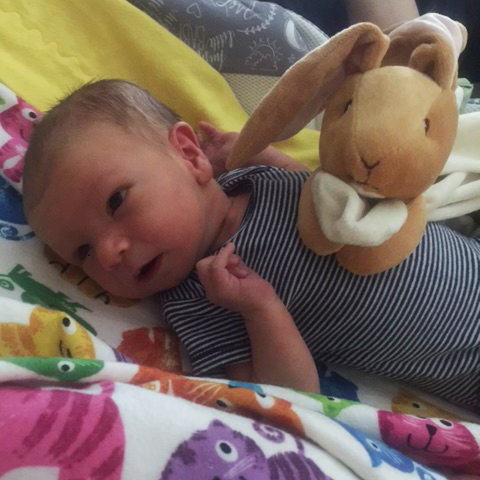 Bodhi was born on April 6, 2017.
A heartbeat, a hug, a new awakening
Not long after their initial visit to CU OB-GYN, the couple was excited to learn that they were pregnant. Michelle vividly recalls one of her first ultrasound visits.
"Dr. Holmes was able to show me the baby's heartbeat, and I just started sobbing uncontrollably," says Michelle. "She gave me a big hug. I really feel like she had given me some extra time and nurturing, given our history."
On April 6, Michelle and Justin welcomed their son Bodhi into the world. This name has a special significance to the couple.
"Bodhi is a Buddhist term that means 'enlightened' or 'awakened,'" Michelle explains. "That's what happens when you give birth. It's a new awakening. You're bringing a brand new person into the world – a completely clean slate."