Jessica wasn't in a committed relationship in her late 30s, but she didn't let that impede her dream of having a child, with sperm donation.
---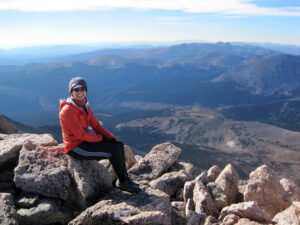 During a solo venture to Thailand and Cambodia, Jessica had an epiphany. Healthy, active and thriving in her late 30s, she knew that she wanted to have a baby while she was still able. But in that pivotal moment in Southeast Asia she realized she didn't want to bring a child into the world in the context of a romantic relationship that might not last for the long haul.
"When I was nearing 38, I started the research to see if pregnancy was possible using donor sperm," Jessica explains. Stateside and excited, she found a reproductive endocrinology group through her insurance provider. There she began intrauterine insemination (IUI) with the sperm donation in hopes of getting pregnant.
"I tried IUI four times, got pregnant on the fourth time, but had a miscarriage," Jessica recalls. "Around that time, that provider group dissolved. I had a discussion with one of the doctors about next steps. He told me, 'If I were you, I would go for IVF. You'll have greater odds of success including the opportunity to have PGS (preimplantation genetic screening) to ensure that the pregnancy will be healthy.'"
Fast rapport with new doctor gives her confidence
PGS evaluates embryos during the IVF process, identifying which are best suited for a healthy pregnancy and baby before they are transferred to the uterus. This screening can be particularly helpful for women like Jessica who are 37 and older, as it identifies abnormalities that often result in failed pregnancy and potential birth defects that become more common with age.
Armed with this new information and still determined as ever, Jessica began the search for a Denver IVF clinic that fit her needs.
"Just based on word of mouth, CU stood out," she explains. "I used to be an assistant professor at an art college, and I have a lot of respect for a learning environment and many minds coming together."
Before long, Jessica made an appointment with CU OB-GYN Dr. Alex Polotsky. At her initial consultation, she found fast rapport with her new doctor.
"I learned that Dr. Polotsky is the father of five children," Jessica explains. "He has high energy and a warm sense of humor. It just felt like we connected. He also didn't seem to bat an eye about me being single and wanting to have a baby. I felt 100 percent respected and I felt like he could make it work."
Sperm donation & 20 eggs yields 9 embryos
It wasn't long before Dr. Polotsky and the CU OB-GYN team had a plan in place to help Jessica conceive using IVF and a sperm donor. The fact that Jessica had gotten pregnant in the past using IUI was encouraging. Now with the help of PGS, she could have much greater odds of carrying a healthy pregnancy to term.
After undergoing ovarian stimulation, Jessica's retrieval yielded 20 eggs. When combined with the sperm donation, the 20 eggs resulted in nine embryos. These were then tested for chromosomal abnormalities that might lead to failure to implant, miscarriage or birth defects.
"Two of the nine ended up coming back euploid (normal chromosome number) and five for aneuploidy (abnormal chromosome number)," she explains. "The other two came back with no result."
One of the two viable embryos was transferred to her womb, and Jessica waited anxiously until she could learn the results. Unfortunately, the transfer was not successful.
One more shot to make it work
"I was totally unprepared for the transfer not to work," Jessica recalls. "I had been through so much at that point, and I really didn't want to go through a second egg retrieval. I got a call from Dr. Polotsky and he said that they were going to formulate a plan for the one remaining embryo."
Knowing they had just one more shot at a successful transfer, the CU OB-GYN team worked together to learn the nuances of Jessica's body. After assessing her pelvic anatomy, they performed a procedure that slightly repositioned her cervix to ensure it was in the ideal location for successful implantation.
Dr. Nannette Santoro performed the second transfer on February 7, 2016. A couple of weeks later, Jessica tried to remain calm while she awaited the results.
"It was February 21," she recalls with clarity. "I was driving my parents to the airport. I'd never in my life hyperventilated, but on that day I had to pull the car over because I just couldn't breathe. I was so stressed out awaiting the news. And then literally five minutes later I got the call. The nurse let me know that the transfer was successful. That was a great day."
Peace of mind with PGS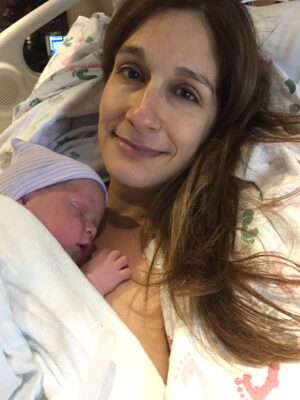 October 26 was an even better one, because Jessica held her newborn son Cameron in her arms for the very first time. Looking back on her experience, she is grateful. But she also wishes she'd known about the benefits of preimplantation testing and screening earlier in her journey, as well as the increased odds of success that come with IVF.
"There's a peace of mind that comes with PGS, and I wish I had done IVF sooner," she says. "But I love being a mom – I really do. I don't care if I don't sleep, I don't care if he needs me to hold him all night long. Whatever it takes. Nothing bothers me about it."
Jessica recently joined a support group for other women who've chosen to raise children as single mothers. She's also found lots of love and support in her family and friends, and still appreciates the support from Dr. Polotsky and his staff.
"I liked everybody at CU OB-GYN," she says. "I knew everyone from the nurses to the front office and, of course, all of the doctors. I even keep in touch with some. When I was deciding how to proceed at various steps of the process, I had the advice not only of Dr. Polotsky, but several members of the team. They each took the time to encourage me to consider their best recommendations. I really do think they cared about me as an individual, and I appreciated that."