Some doctors didn't believe her abdominal pain. Ours did, finding & treating her uterine fibroid, stage 4 endometriosis, pelvic congestion syndrome …
---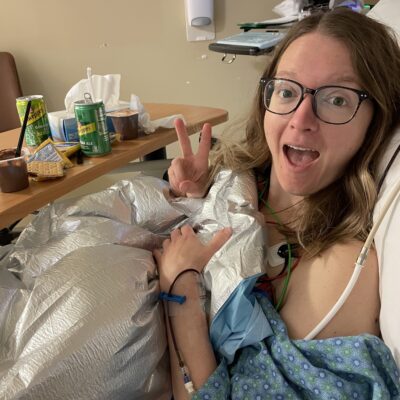 Dr. Gabrielle Whitmore and Dr. Megan Orlando, assistant professors in the CU School of Medicine's department of obstetrics and gynecology, assisted with this story.
Alison Wisneski stumbled into CU Anschutz Emergency Care in terrible abdominal pain because it was right next to Lady Justice Brewing which she co-owns with her wife, Betsy. She had never been to the CU Anschutz Medical Campus, but her pain was making her shake so much she couldn't film the promotional video she was making for her business. Betsy convinced her to go next door for an evaluation.
That was certainly not the first time she had such crushing abdominal pain. For years, doctors had dismissed her complaints.
"I was so frustrated every time I left other hospitals with no answers," says the 35-year-old, now more than half a year pain free after seeing one of CU OB-GYN's minimally invasive gynecologic surgeons and pelvic pain specialists, Dr. Ritchie Delara. "My primary care physician and neurologist, who I saw after losing consciousness one day from my pain, had believed me. But so many others treated me like I was seeking pain meds. It made me feel like it was me, like I was wrong and crazy."
Alison's painful medical history
In hindsight, Alison believes her symptoms actually began when she was 12 or 13, so she had been experiencing abdominal pain for over half of her life. She had trouble standing without wanting to faint. The pain worsened at age 17: she was tiny and didn't eat much, exercised a lot and hadn't started her period yet. Being an athlete, she dismissed her pain and pushed onward to college where the pain persisted, along with migraines and vomiting. She thought it was her diet or something she was doing wrong that was causing the issue.
As time passed, her pain did not. It got worse, to blackout level – which she did in a Whole Foods store. Her primary care physician sent her to an emergency room (ER), where it was suggested that maybe it was her appendix. This was a common outcome during her many doctor visits, though no problem with her appendix was ever found.
After four years and five CT scans at different hospitals, the last ER physician told Alison he believed her about her pain but could not find a cause. He suggested that she see someone else. When she walked into CU Anschutz shortly afterward, she stepped off the merry-go-round of perpetual pain with no solution and into a safe space where she found compassion and answers.
What Alison experienced with the physicians and providers at CU Medicine typifies our approach to patient care. We know that the patient's experience, perspective and descriptions are vital tools that enable us to provide not only the most effective care, but also the most compassionate care.Dr. Megan Orlando
Finding respect at last – and one cause of her abdominal pain
Her medical solution was next door to her business all along at CU. Alison told them of her abdominal pain and said she knew it wasn't her appendix.
"Immediately I was given the most respect I'd ever received through this journey, and I was believed right away and by every staff member at CU thereafter," Alison says. "I was able to talk through the pain for the first time with someone who believed me."
A transvaginal ultrasound revealed a uterine fibroid that was one cause of her abdominal pain. Alison was finally receiving effective diagnoses and on her way to treatment. Here the providers listened to her and heard what she had to say about what was going on with her body and the pain.
"It was life changing to realize the symptoms weren't caused by something I was doing or eating," she recalls. "The ER doctor drew on the white board to show me what a healthy uterus looks like versus what mine looks like and told me it was no wonder I was in so much pain."
Related reading: How a listening OB-GYN ended a patient's chronic pain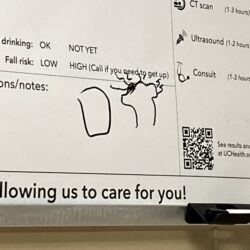 How a diagnosis of stage 4 endometriosis brought tears of relief
Alison became a patient of CU OB-GYN's minimally invasive gynecologic surgeon, Dr. Delara, who has since left the practice. She recalls Dr. Delara saying to her, "Tell me what's going on," looking into Alison's eyes, engaged, not staring at a notepad or clock. Dr. Delara did an exam, suspected endometriosis and scheduled minimally invasive exploratory surgery, which is one of the main ways to definitively diagnose endometriosis.
After surgery Alison was informed that while the team had suspected stage 1 endometriosis, it was actually stage 4 endometriosis, the most severe form of the disease.
"I hung up and cried the rest of the day after receiving that call," Alison says. "It answered so many questions and I realized I wasn't crazy. Lifelong I was told there was nothing there, but I was finally proven right and sane."
Check out her ongoing posts on TikTok recounting her many medical experiences.
Alison found comfort and support with every person at CU OB-GYN and CU Anschutz. Everyone went to great depths to explain everything, and Alison says she learned how to use Google properly to do her own research (stick with National Institutes of Health sources).
She says CU OB-GYN is affirming, kind, patient and educational. "They work quickly to get you the answers you need in a way I wasn't expecting, especially after hearing, 'We don't know what's wrong, good luck,' from others. I always leave an appointment with next steps, never without knowledge of what's coming up. Having someone tell you your pain is real, is amazing, and that was 100% what happened with everyone at CU."
Finding pelvic congestion syndrome and other "little wins"
At one appointment CU physical therapist Susan Miller thought Alison looked unhealthy and sent her to the ER to be evaluated. They discovered pelvic congestion syndrome, another source of chronic pain. CU providers also informed Alison she was allergic to certain metals and Neosporin. "So many little wins," says Alison of her care at CU.
From postural orthostatic tachycardia syndrome to rock star of the pain management clinic
Unfortunately, Alison's ordeal was not over. Being screened for the BRCA (breast cancer) gene and a possible connective tissue disorder in Houston, they found instead postural orthostatic tachycardia syndrome (POTS), which affects heart rate when standing from lying down. Fortunately, Dr. Hugh Parker at UCHealth could provide that treatment.
At the UCHealth Pain Management Clinic, they honored Alison's request to avoid opioids and worked with pelvic floor therapy and nerve blocks to manage her pain. The providers there found it a little difficult to get an IV in her vein.
"I heard them talking about me and how kind I was to do what I needed (like drink Pedialyte) to make it easier for them to draw blood," says Alison. "They were fighting over who got to work with me. They didn't know I could hear them, but it was so sweet. I knew everyone by name, and they knew me. They were high-fiving me, and I was the star of the pain clinic."
A final solution for endo pain averts a future family failure
Before being treated at CU, Alison and Betsy had been thinking of having a child through in vitro fertilization (IVF), with Alison carrying the pregnancy. But after a midwife found cysts on Alison's cervix during a fertility check, they decided to postpone and investigate treatment for the cysts, once COVID-19 was less of a threat.
After Alison's diagnoses, and still experiencing discomfort, the couple decided to end the prospect of more endometriosis pain for Alison with a full hysterectomy so endometriosis had less to attach to. She underwent hysterectomy and learned that both of her fallopian tubes had cysts that were also contributing to her pain.
"Had I tried to get pregnant, it would have been an ectopic pregnancy anyway," she says of the life-threatening, unsustainable pregnancy. "I am glad that as a queer couple, we didn't go through intrauterine insemination and IVF when it would have failed."
Yet another win, and more. Alison worked her way through a ruptured cyst on her kidney after surgery and a new case of COVID-19. Now, she says she feels 17 again.
"I finally have energy. I realized the pain had taken my life. I was working from bed with my computer camera off, unable to even put pants on. And now I'm running my brewery, wearing jeans, and staying up past 7 p.m."
CU solves wife Betsy's IUD woes
During Alison's gynecologic tribulations, Betsy was having abdominal pain issues herself for about nine months that progressed to the point of preventing her from working in their brewery. Naturally, Alison referred her to CU OB/GYN.
Preparing to do a Pap Smear and an evaluation, the team decided to first remove the IUD (intrauterine device) Betsy had been using for about six years to address the heavy bleeding she had begun experiencing again during her periods. Alison became concerned for the time it was taking for the IUD removal and soon learned that the IUD did not appear to be correctly located in the uterus.
"In typical CU style," says Alison, "they got Betsy off the table and immediately downstairs for an emergency X-ray." The X-ray did not locate the IUD but did suggest two masses. An MRI was required.
Though bleeding a good bit and in pain, Betsy was calm and comfortable during this process.
The positive sign of surgery prep: Bay 29
Hysterectomy was recommended to treat uterine masses seen on MRI and also as definitive treatment of her bleeding. The day of Betsy's surgery, they realized she was in surgery prep Bay 29 – the same one Alison had been in for her hysterectomy. The couple considered it a good sign, reinforced by the fact that some of the same CU staff members were there who had cared for Alison.
Two days after her 40th birthday, Betsy had the hysterectomy. They found adenomyosis, which occurs when endometrial tissue grows into the muscle layer of the uterus. It was a related condition to what Alison had endured with endometriosis growing on the outside of the uterus.
And her missing IUD? The IUD was not located anywhere in her abdomen. Betsy's periods were so heavy that her uterus pushed the IUD out with her flow.
Surgery was the right choice, and there were no complications. Betsy felt so much relief.
We are glad to have been able to help both women with the problems they endured for all too long. Pelvic pain can be a symptom of several different conditions, which we are experts at diagnosing and treating. Our Pelvic Pain Center specializes in treating such chronic pain.Dr. Gabrielle Whitmore