Before she found a pelvic pain specialist, Brittany endured years of misdiagnoses and an excruciating battle with narcotic addiction.
---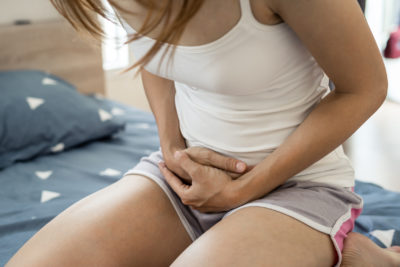 "I can't even begin to tell you the pain I was in," Brittany says as she recounts the beginning of what would become a long and challenging search for answers and relief.
"My boyfriend ran into the room because I was screaming. I have an extremely high tolerance for pain, and I'd just recently given birth to my child. I was bent over in my bed screaming, crying, shaking and throwing up. It was horrible."
When the pain in her abdomen didn't subside, Brittany's boyfriend drove her to the emergency room. The intravenous meds administered in the ER brought only temporary relief and the doctors struggled to pinpoint an exact cause. Since her symptoms mimicked those of gallstones, she was sent to the operating room to have her gallbladder removed. But following surgery, the symptoms persisted.
From bad to worse
"When I got out of the hospital, I was still dealing with episodes of pain. I went to an OB-GYN who said it could be endometriosis. The doctor recommended that I get a full hysterectomy. I was only 22 at the time, and I thought, I'm really young, and this is an intense decision."
Hesitant to forever relinquish her ability to have children and desiring a second opinion, Brittany sought care from another OB-GYN. Ultimately, she was prescribed pain medication – and developed an addiction to narcotics.
"Once I figured out that I was addicted to the pills, I basically lost it," she explains. "I was essentially a zombie for a year. I lost all my drive. I had to quit school. I had nothing left except for this excruciating pain that was still there."
Brittany suffered through an agonizing two-week period of detox, determined to break her body's narcotic dependence. Then, when things looked bleaker than ever, she was referred to an OB-GYN at the University of Colorado who specialized in treating difficult cases of chronic pelvic pain: Dr. Brittney Bastow.
Experiencing persistent pelvic pain? The doctors in our Pelvic Pain Clinic specialize in treating even the most challenging cases.
Finding the root of her chronic pain, at last
Brittany vividly recalls her first appointment at CU with Dr. Bastow.
"At that point I didn't trust anyone. I didn't think anyone would ever figure out what was wrong with me," Brittany explains. "I remember she said, 'I think I know what's wrong with you based on what I'm reading in your records, but I just need you to trust me.'
"She had me lie back on the exam table and keep my eyes closed. She took a cotton swab and gently touched me with the soft side of it and asked, 'Can you feel this?' And then she moved the swab and asked, 'Can you feel this?' It felt excruciating. She explained that she had been using the soft, cotton side the whole time and was barely touching me. She said, 'You have nerve damage.'"
Brittany soon learned that while there is no cure for this nerve damage, there were things that could be done to manage the chronic pelvic pain without narcotics. They began a regimen of trigger-point injections, initially administered once a month. Today, Brittany receives the injections once every seven weeks or so, and has finally gotten her pain under control.
"Dr. Bastow listened to me," says Brittany. "She actually listened to me. A lot of doctors act like they're listening, but they're not. Even when I go see her now, she remembers things that I said years ago. She's just an all-around phenomenal person."
Brittany's encouragement for others battling chronic pelvic pain
With her chronic pelvic pain appropriately managed, Brittany encourages other women to stay strong in advocating for themselves and finding a provider who's equipped to listen and address their symptoms.
"Don't let a doctor belittle you or tell you that you're crazy," she says. "I had doctors tell me I was crazy for years. Your body will tell you that there's something wrong, and if you know that there's something wrong, be persistent."
Brittany is unsure if she'll have another child, but if she does, she knows where to turn.
"I don't plan on having another, but if I did, Dr. Bastow would be the one to deliver the child. She does all of my wellness checks now. As far as I'm concerned, if Dr. Bastow moved to Ohio, I would travel to Ohio to go and see her every seven weeks. I would follow her around the country."