OB-GYN team gives couple a hoped-for experience
When Emily Tenhundfeld found out that she and her husband would be having twins, she envisioned a natural childbirth. As it turned out, the birth of her darling little girl and boy didn't quite go the way she had planned. Complications forced Emily to have an emergency cesarean section at 36 weeks.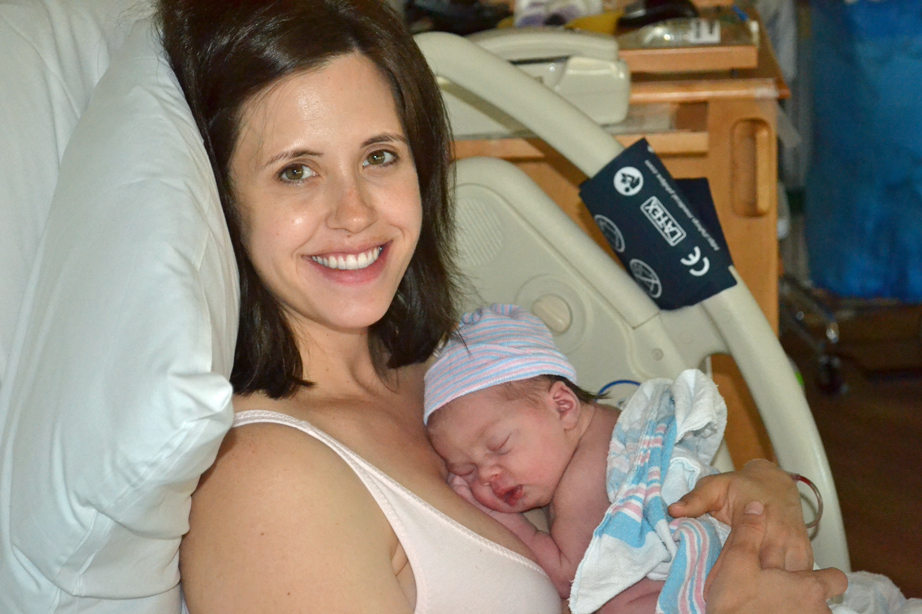 Emily Tenhundfeld was able to have a vaginal birth after a cesarean (VBAC) with the help of CU OB-GYN, who helped Emily have the birthing experience she wanted.
Even though she had to have a cesarean, the birth experience at University of Colorado was so positive that Emily and her husband, Andrew, decided they would come back for the birth of their next child.
Dr. Jaime Arruda of University of Colorado OB-GYN had been the attending physician for the twins' birth. When Emily got pregnant again, she returned to see Dr. Arruda. Emily brought along a birth plan that she and Andrew had developed.
Many women who have had a cesarean go on to have subsequent cesareans, but Emily wanted to have a natural childbirth this time.
"Everything had happened so fast with my C-section with the twins," says Emily. "For me, it felt like there was a disconnect. I wanted to feel this birth, to really be present through the whole thing."
Dr. Arruda encouraged Emily to try a VBAC (vaginal birth after cesarean), and assured her that the University of Colorado OB-GYN team was happy to support that goal.
"My husband and I had very specific ideas about what we wanted for the birth," Emily says. "I wanted to remain unmedicated throughout the whole thing. I didn't want to be checked vaginally numerous times, didn't want to be asked about my pain level, and I wanted my husband to be the one to announce the baby's sex."
It was important to Emily that she not be tethered to the bed by monitors and machines during the birth. "I wanted to be free to walk around, to get in the tub or use the birthing ball. I wanted to be able to eat and drink if I wanted to," she says.
The couple's birth plan even outlined plans for after the baby was born. "We didn't want them to take the baby and do the newborn procedures right away. I wanted skin to skin contact for the first few hours," says Emily.
Birth Planning: It Takes a Team
Dr. Arruda and her team took the birth plan to heart. Though it turned out that Dr. Arruda was away when Emily went into labor, Dr. Steve Rotholz stepped seamlessly into place. He and the couple's doula, Kristy Truesdale, worked as a team throughout the entire delivery.
Even when the pain came on strong and Emily started to ask for medication, the nurses encouraged her to work through it, knowing that Emily wanted to go through birth without medication.
---
They were cheering me on and giving me their best so that I could have the birth I wanted. Emily T.
---
"The doctors, nurses, Andrew and our doula worked as a seamless team," says Emily. "They were cheering me on and giving me their best so that I could have the birth I wanted. It's that kind of patient dedication that really sets apart University of Colorado OB-GYN."
Emily and Andrew were thrilled when the baby arrived, and Andrew announced their baby girl. The infant was laid on Emily's belly, where the medical team did a quick evaluation. Then they laid a warm blanket over mommy and baby, and left the family alone to bond.
For Emily, it was an unforgettable experience. "Birth is one of the only times you go into the hospital when you're not sick," she says. "Every birth is different and wondrous. It's especially wonderful when birth is a tender, positive experience."