Anne had always been an active person. She was in great shape. She spent a lot of time outdoors, walking and playing tennis. She and her husband traveled a lot, and they enjoyed exploring new destinations.
All during her adult life, though, Anne had struggled with her monthly menses. Painful cramps and heavy bleeding were a constant monthly pain. She tried her best to work around it.
During the last few years, however, Anne's symptoms had grown worse. At age 49, Anne faced the fact that her menstrual cycle was disrupting her life.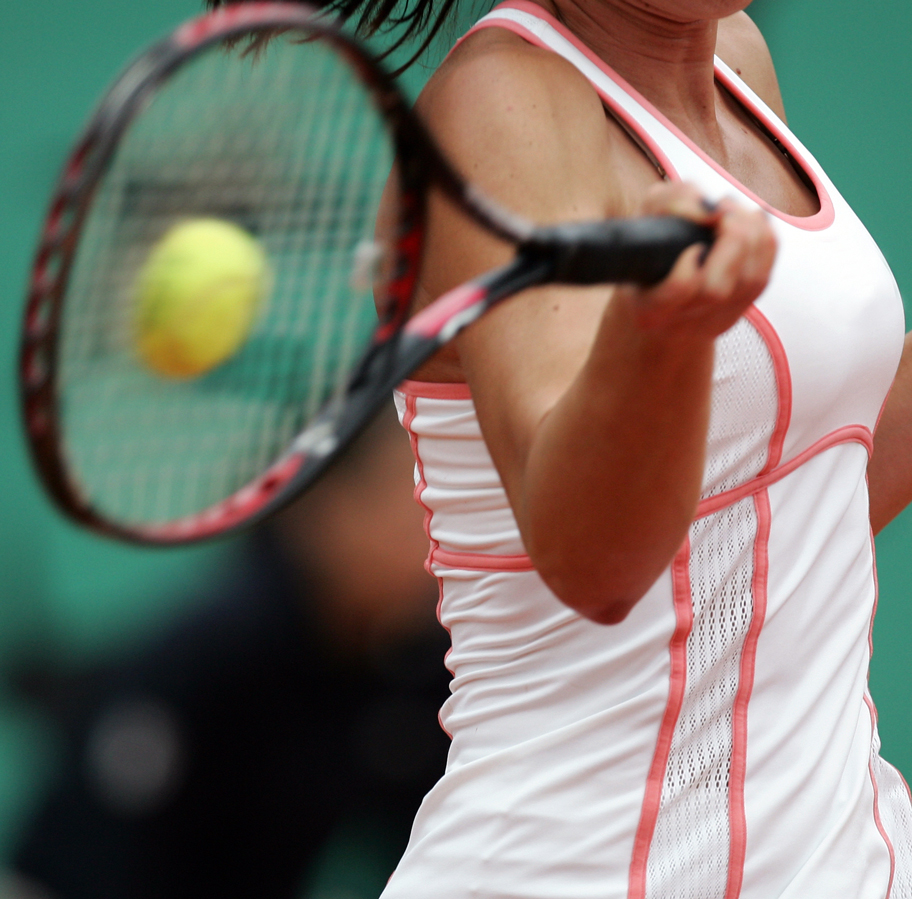 A minimally-invasive hysterectomy got Anne back on the court quickly, eliminating her heavy periods and chronic pain.
"I had an extremely heavy-flow period," she says.  "I couldn't be away from the bathroom, and I would spend at least one day a month in bed."
Her physical condition affected everything. Eventually, she stopped some of her usual physical activities.
"I always felt bloated and so uncomfortable," Anne says. "I didn't feel good, so I would start eating. That made me gain weight."
In addition to her other symptoms, Anne felt tired all the time. Finally, she admitted to herself that she needed to find help.
Around that time, Anne had been taking part in an executive health program at the University of Colorado. The program provided her with a complete health workup.
"I told one of the women there about how uncomfortable I was," says Anne, "and that my periods were getting out of control. She recommended I see an OB-GYN doctor."
Anne made an appointment at University of Colorado OB-GYN. The medical staff found that Anne had an enlarged uterus due to uterine fibroids, and recommended that she have a hysterectomy via da Vinci surgery. Da Vinci is a state-of-the-art surgical platform which uses a robotic tool to allow the doctor to make precise, minimally-invasive surgical moves.
Until recently, surgery for many gynecological conditions required a large abdominal incision. The traditional hysterectomy surgery was very invasive and required significant down time.
The thought of surgery was not appealing to Anne.
But her University of Colorado surgeon, Dr. Jaime Arruda, explained that the da Vinci surgery could be done as an outpatient procedure in most cases. There would be less pain, fewer complications and a much quicker recovery as compared to the traditional surgery.
The thought of a quick recovery appealed to Anne, and she decided to go ahead with it.
During the surgery, the doctor removed Anne's cervix and uterus, but the procedure required only five little incisions less than quarter of an inch each. The entire surgery took just three hours – and half of that time was for setting up the da Vinci robot for the surgery.
---
I was back in the gym in two weeks, and then started playing tennis again at four weeks after the surgery.Anne
---
"I had very little pain after the surgery," Anne says. "They gave me some pain medication, but all I ended up needing was a few Tylenol." According to her doctor's directions, Anne took it easy, but kept moving about. "I was back in the gym in two weeks, and then started playing tennis again at four weeks after the surgery."
"I am a new person," Anne says. "It has transformed me. I don't have pain or periods."
Since Anne felt so much better, she went back to being her active self. She has lost 20 lbs. in the last few months.
"I feel great, and I am so glad I had the surgery," she says. "I only wish that I had done it sooner."