L. Chesney Thompson, MD, FACOG
Specialty: Professor, Chief of General Obstetrics and Gynecology, Vice Chair Department of Obstetrics and Gynecology
Clinical Location
University of Colorado Hospital (UCH)
Anschutz Outpatient Pavilion
1635 N. Aurora Court
Aurora, CO 80045
University Family Medicine at Boulder
5495 Arapahoe Ave
Boulder, CO 80303
Request Appointment:
303-872-5949 | Request Appointment Online
Services
General Health
Well Woman Exams
Contraception Counseling & IUD/Nexplanon Insertion
Breast Health
Menopause Management
Condition Diagnosis & Treatment
Abnormal Bleeding & Menstrual Disorders
Gynecologic and Obstetric Infections
Abnormal Pap Smear Management
Sexually Transmitted Infection (STI)
Ovarian Cysts
Polycystic Ovary Syndrome (PCOS)
Hormone Replacement Therapy
Vulvar Disorders
Pregnancy & Postpartum
Preconception Counseling & Primary Infertility Evaluation
Prenatal Care including Prenatal Testing
Childbirth
Procedures
Surgery
Diagnostic Hysteroscopy
Diagnostic Laparoscopy
Total Abdominal Hysterectomy & Laparotomy
Cold Knife Cone (CKC)
Wide Local Excision
Laser
About Dr. Thompson
Dr. Chesney Thompson received his undergraduate degree from Yale University and his medical degree from Weill Cornell Medical College, going on to participate in the University of Chicago Residency Program in Obstetrics and Gynecology. He was named the ASCCP (American Society for Colposcopy and Cervical Pathology) mentor in colposcopy and received the University Hospital Physician Award in 2004.
Dr. Thompson provides complete obstetrics and gynecological services, including general Obstetrics/Gynecology, abnormal pap smears, sexually transmitted infection and HPV.
Dr. Thompson has a special interest in lower genital tract disease and dysplasia of the cervix, vagina and vulva. He also specializes in infections of the female genital tract.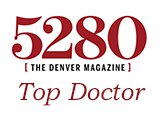 He was awarded Best Doctor in 2002 by Best Doctors, Inc., the University of Colorado Outstanding Full-Time Physician in 2004 and 5280 magazine's Top Doctor in Obstetrics and Gynecology in 2008 and 2013–2017.
Dr. Thompson chose Obstetrics and Gynecology because of the broad scope of primary care, surgical and obstetric procedures that allow him to interact with patients. His personality and patience are his greatest strengths and he willing to work with patients, listening to their concerns.
Recognition & Awards
Top Doctor, Obstetrics and Gynecology, 5280 Magazine, (2008, 2003-2016)

Outstanding Full-Time Physician Award, University of Colorado, (2004)

Best Doctor, Best Doctors, Inc., (2002)
Education
Undergrad: Yale University, BS (1983)
Medical School: Weill Cornell Medical College (1990)
Residency: University of Chicago Program (1994)
---
Did you know?
Dr. Thompson is proud to be the chief of the general Obstetrics/Gynecology division of University of Colorado and enjoys the breadth of activities ranging from the clinic to the operating room. Dr. Thompson's collective efforts are part of a larger effort to improve women's health.
---
"I involve my patients in the treatment process. I feel my role is to educate them on the options available to them and allow them to take an active role in making important decisions about their care." Dr. Chesney Thompson